Charme and IMA announce acquisition of ATOP
Founded in 1993 and headquartered in Barberino Val d'Elsa (Florence), ATOP is a global leader in manufacturing machines and automation lines for the production of stators and rotors in electric motors. With its proprietary know-how and research, ATOP specialises in sustainable electrical mobility (e-mobility) that encompasses hybrid and plug-in electric motors used in electric vehicles, as well as in the broader automotive sector, household appliances and power tools.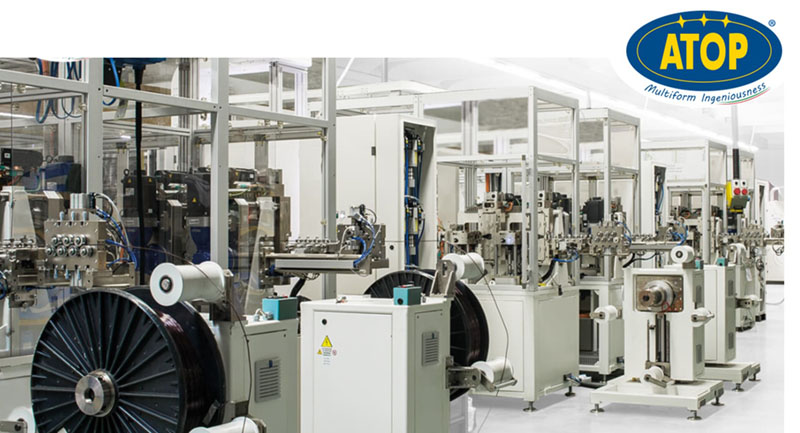 In the last three years ATOP has grown at more than 10% per annum, resulting in 2016 revenues of €48 million and over 180 employees. With Charme and IMA as long-term strategic investors, ATOP plans to accelerate its global footprint by expanding its international customer base. The company will strengthen its core competency of industrial automation and continue to invest in R&D targeting sustainable e-mobility.
The acquisition of ATOP was led by Charme III, a pan-European private equity fund with committed capital in excess of €500 million, in conjunction with IMA, a world leader in the design and manufacture of automation packaging and processing machines. Charme and IMA acquired an 84% stake in ATOP through a special purpose vehicle controlled by Charme III, while the founders of ATOP (Luciano Santandrea, Massimo Ponzio and Fabrizio Cresti) re-invested to retain a 16% stake.
Matteo Cordero di Montezemolo, Founder and CEO of the Charme Funds, commented: "ATOP is the first acquisition for Charme III in Italy and represents an extraordinary investment opportunity. ATOP is a global leader in an innovative, high-growth sector led by a first class management team with proprietary know-how. These distinctive characteristics correspond directly with Charme's investment strategy; and with the support of IMA and our investors, we look forward to helping ATOP achieve its international growth plan."
Alberto Vacchi, Chairman and CEO of IMA, commented: "I am glad to have invested alongside Charme with whom we share a strong relationship based on industrial, strategic and international know-how to establish a long-term investment partnership. In tandem with ATOP's management team, IMA now has the opportunity to gain market share in the high-growth automation market driven by the emergence of hybrid and plug-in electric motors which are used in the automotive sector. Once again, IMA's decisions address strategic sectors of the global market, where quality and innovation are the basis for success."
Luciano Santandrea, Founder of ATOP, said: "Alongside Massimo Ponzio and Fabrizio Cresti, I am excited to partner and reinvest with two renowned international investors. Charme has already demonstrated its industrial know-how through its prior investments, while IMA is a leading industrial player in the automation sector. Together, they are the ideal partners to support ATOP in capitalising on the opportunities in the global e-mobility market."
---
Media Contacts
For Charme/ATOP
Greenbrook Communications
Andrew Honnor, Alex Jones, Carl Leijonhufvud
+44 (0)207 952 2000
---
About Charme Capital Partners
Charme Capital Partners was founded in 2003 and helps deliver transformational growth for its portfolio companies. The firm is supported by its unique investor base of institutional LPs and prominent global industrialists. Since its inception, Charme Capital Partners has raised over €1bn through its Charme Funds.

Charme III was launched in late 2015 and has a pan-European investment strategy, focused in particular on Italy, UK and Spain. These countries present attractive opportunities to invest in market leading companies with strong international growth prospects. Charme III will invest in companies valued up to €500m, partnering with entrepreneurs and management teams to expand both organically and inorganically.

The main investments realised by Charme I and Charme II include: in luxury goods, Poltrona Frau Group (the world leader in high-end design furniture created via the acquisitions of Poltrona Frau, Cassina and Cappellini); in technology, Octo Telematics (world leader in insurance telematics); and in med-tech, Bellco (leading provider of blood purification devices). Charme III has already completed investments in Spain with Igenomix (world leader in reproductive genetic diagnostics) and in the UK with JD Classics (leader in the retail, restoration and management of classic cars).

Visit: www.charmecapitalpartners.com

---
About IMA

Established in 1961, IMA is world leader in the design and manufacture of automatic machines for the processing and packaging of pharmaceuticals, cosmetics, food, tea and coffee. The Group has more than 5,100 employees, more than 2,600 of whom overseas, and can count on 39 production plants in Italy, Germany, France, Switzerland, Spain, the United Kingdom, the United States, India, Malaysia, China and Argentina. IMA has an extensive sales network comprising 29 branches which provide sales and service in Italy, France, Switzerland, the United Kingdom, Germany, Austria, Spain, Poland, Israel, Russia, the United States, India, China, Malaysia, Thailand and Brazil, representative offices in Central and East European countries and over 50 agencies covering a total of about 80 countries.

IMA S.p.A. has been listed on the Milan Stock Exchange since 1995 and in 2001 joined the STAR segment. The following manufacturing companies are part of the IMA Group: Benhil GmbH, Co.ma.di.s. S.p.A., Corazza S.p.A., Delta Systems & Automation Inc., Erca S.A., Erca-Formseal Ibérica S.A., Fillshape S.r.l., Gasti Verpackungsmaschinen GmbH, Gima S.p.A., Gima TT S.p.A., G.S. Coating Technologies S.r.l., Hamba Filltec GmbH & Co. KG, Hassia Packaging Pvt. Ltd., Hassia Verpackungsmaschinen GmbH, Ilapak International SA, Ilapak Italia S.p.A., Ilapak (Beijing) Packaging Machinery Co. Ltd., IMA Automation Malaysia Sdn. Bhd., IMA Automation USA Inc., IMA Life North America Inc., IMA Life (Beijing) Pharmaceutical Systems Co. Ltd., IMA Medtech Switzerland S.A., IMA North America Inc., IMA-PG India Pvt. Ltd., IMA Swiftpack Ltd., MAI S.A., Mapster S.r.l., PharmaSiena Service S.r.l., Revisioni Industriali S.r.l., Shanghai Tianyan Pharmaceutical Machinery Co. Ltd., Teknoweb Converting S.r.l., Telerobot S.p.A.

Visit: www.ima.it